1.6
The adaptation of GTA San Andreas - Grand Theft Auto for iPhone and iPad revitalizes one of the best action games around. Rule the streets of Los Santos

One of the best GTA games adapted to iPhone
Grand Theft Auto San Andreas, or simply known as San Andreas, is finally available for iPhone. In this adaptation for Apple's mobile devices, the game hasn't undergone any sort of modification: we'll continue to manage CJ in his attempt to shrug off the unfair homicide accusation that hangs over him, and become the king of the streets, but with better graphic quality.
Show who rules in San Andreas.
Features
Remastered high-resolution graphics that make the most of iPhone's technical capacity.
Improved lighting, color palette, character modeling, shadows and environmental reflections.
Compatibility with iOS 7's physical controllers.
Function to store games on the cloud.
Customizable controls that only show the buttons when necessary.
The charm of the original San Andreas is still alive and kicking
Although GTA San Andreas - Grand Theft Auto has been remastered to adapt it to iPhone screens, none of the charm of moving around Los Santos, San Fierro and Las Venturas (the virtual versions of Los Angeles, San Francisco, and Las Vegas) during the 1992 Rodney King riots has been lost. In this installment, you can carry on listening to the fantastic radio station that will transport you back to that year with each song that is played.
Download Grand Theft Auto San Andreas right now and relive one of the most successful and controversial games of the 21st century on your iPhone.
Requirements and additional information:
Requires iOS 6.0 or above.
Compatible with iPhone, iPod touch and iPad.
This is a paid application.
Antony Peel at Google +
Images GTA San Andreas - Grand Theft Auto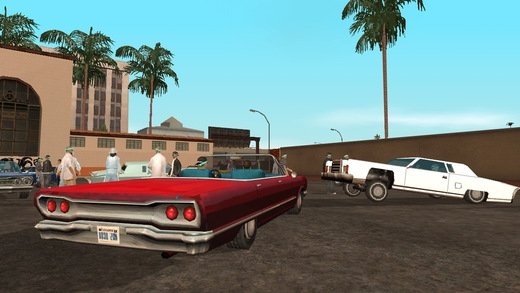 Become the most fearsome criminal of Vice City

One of the best installments of Rockstar's GTA saga